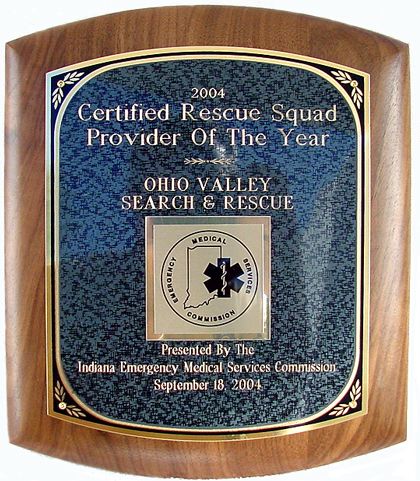 Indiana EMS Director Michael Garvey spoke these words during the OVSAR Awards presentation
"The Ohio Valley Search and Rescue, Inc. is established and organized to provide resources and opportunities for its members to train themselves and their canines in all aspects of search and rescue. The purpose of this training is to provide skilled and knowledgeable personnel and trained canines to assist in locating:
1. Lost or missing persons in wilderness or urban areas;
2. Survivors trapped in collapsed buildings or disaster areas;
3. Drowned subjects;
4. Human Remains Detection HRD (cadaver search).
Ohio Valley is also dedicated to offering education and services for the benefit of the community.
One of Ohio Valley Search and Rescue main activities is to provide area fire, EMS, and other public safety agencies with search and rescue awareness classes. These programs meet NFPA 1670 SAR awareness criteria and help teach first responders when to call for a "trained" search and rescue team, and what to do before they arrive. Several successful searches have been the direct result of these classes.
OVSAR has recently introduced to the Evansville/Vanderburgh School Corporation a new program named "LOST but found safe and sound". Grant money can be applied for to supply all school libraries with video tapes/CD and books so children will have access to this program. OVSAR has also agreed when requested to present this program in person during student assemblies.
Ohio Valley is also active in public events involving classes for Alzheimer's education groups, Fire Department open houses, public safety education events, and other community events when request to promote search and rescue education.
In the past several years the OVSAR has been requested to respond to assist area public safety agencies when the situation was looking grim. But due to the training, experience and dedication, several of these cases had happy endings.
The 2004 Indiana Certified Rescue Squad Provider of the Year is Ohio Valley Search and Rescue team from Evansville, Indiana."